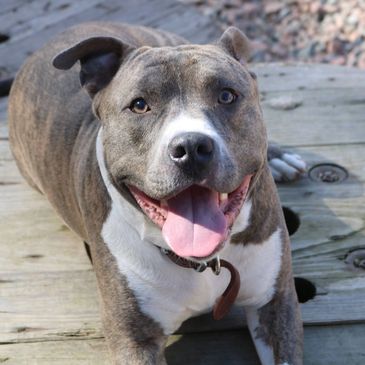 Catherine Collins reviewed Red Woof Inn Doggie Daycare — 5 starS April 12, 2018
Catherine Collins reviewed Red Woof Inn Doggie Daycare — 5 starS April 12, 2018
Catherine Collins reviewed Red Woof Inn Doggie Daycare — 5 starS April 12, 2018
After almost a year of day visits and several week long boarding's, I am just realizing there is a platform available here to express how fortunate we are to have found Marcel and his Inn! When we first started looking for care options for Harvey ( at the time , a 1 yr old Pitbull) we didn't have high hopes due to the stigma surrounding his breed. Marcel was more than open to taking him on and I think even kind of laughed that we ,felt the need ourselves, to mention his breed over the phone first.
There is no stigma here, just an extremely knowledgeable , professional and fun atmosphere.
If it weren't for Red Woof and the amazing job Marcel does with ever single dog that walks through the door, our boy wouldn't have nearly the social skills he has developed in his time spent here.
We are so incredibly grateful, and we know Harvey is too!